yup .. i thought it just a back pain for all this years...kinda sore muscle feel like stretching..
maybe old sports injuries..maybe from previous accident..or my friend called it 'professional injury'.. always sitting bend yourself drawing. and spend too much time sitting and drawing..
but that day i got slip disc attack..it was so painfull and cant barely move...
browse to the bottom post...special teaser from my upcoming comic...
malay entry:
Alhamdullilah dah ok sikit..bila menaip post nih...rabu lepas..serangan slip disc + back pain...pagi tuh nak bangun tak boleh..nak gerak tak buleh..sakit belakang urat saraf bagai di cekam di cucuk tusuk sakitnya....
terpaksa tahan sakit bangun..merangkak ke kereta..isteri yg sarat mengandung terpaksa bantu ( patutnya kita kena jaga bini..bini kena jaga kita)...dengan bantuan adik ipar dan pekerjanya...cuba mengangkat diri ni ke dalam kereta utk ke hospital..
setelah di cucuk..makan ubat amek darah ( 2-3 kali cucuk sampai tersembur la darah kuar)..cek sana sini...esoknya kurang sakit..setelah scan ngan fisio..
tapi kena jaga la badan pinggang la nih...tak leh kerja keras....
camna pun Alhamdullilah setelah edit sana-sini selama 4 bulan komik terbaru saya 'pendekar Melayu terakhir'..akhirnya di peringkat proof dan final edit sebelum ke mesin cetak..
ini ada petikan interbiu di PTS oleh wartwan PTS akan kemunculan komik baru saya...
petikanda di ambil dari:
Pendekar Melayu Terakhir Bina Jati Diri Melalui Komik
Roziyah — 27 Jul 2010 4:30 PM • Dilihat: 61
Lambakan komik daripada luar terutamanya dari Jepun telah memberi suntikan semangat kepada Tuan Azhar Abdullah bagi menghasilkan komik terbaharu.
Komik Pendekar Melayu Terakhir yang bakal terbit pada minggu hadapan ini mendedahkan penjajahan Jepun di Malaya satu ketika dahulu.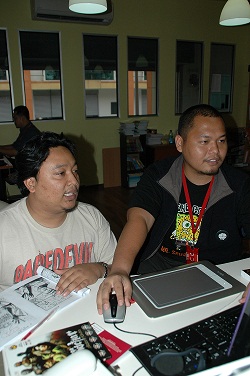 Dari kiri, Pelukis Komik Pendekar Melayu Terakhir sedang berbincang bersama editor Komik-M, Tuan Aliff Firdaus Azis
"Komik ini membawa mesejnya yang tersendiri. Hakikatnya pembaca masih lagi dijajah oleh lambakan komik Jepun. Melalui komik ini kita mahukan jati diri tempatan disemat dalam jiwa peminat komik," kata pelukis komik, Azhar Abdullah.
Komik ini juga memaparkan fakta dan sejarah untuk dipelajari oleh pembaca bagi membolehkan mereka mengetahui sejarah sambil berhibur.
"Bagi saya setiap komik ada mesejnya yang tersendiri. Sudah menjadi tanggungjawab pelukis untuk menonjolkan jati diri melalui komik mereka," jelas Tuan Azhar.
Menurut beliau, komik merupakan satu medium untuk penulis menyampaikan mesej kepada pembaca dan umum.
"Kini komik Malaysia semakin tenat dengan lambakan komik daripada luar negara. Saya sebagai pelukis komik Malaysia tampil untuk menyelitkan unsur jati diri dalam komik. Selain itu, melalui komik juga kita boleh mengetengahkan watak hero tempatan," ujar beliau.
Pembaca juga perlu berfikir isi yang terkandung disebalik komik yang telah dihasilkan melalui komik yang telah dihasilkannya.
Beliau yang sebelum ini muncul dengan Liga Pendekar: Perikatan Adiwara menampilkan seni silat Melayu yang unik dan menarik selain menghidupkan kembali watak-watak klasik dengan nafas baru melalui karya-karyanya.
Apabila ditanya adakah beliau meminati komik persilatan, Tuan Azhar menegaskan yang beliau meminati semua jenis komik namun komik persilatan bagi beliau dapat menonjolkan kehebatan pekomik-pekomik Malaysia.
"Komik yang datang dari luar kebanyakkannya menonjolkan budaya diri dan negara mereka. Mengapa kita tidak menonjolkan kehebatan negara kita melalui komik yang dihasilkan?" beliau mengakhiri perbualan dengan menimbulkan tanda tanya kepada pembaca umumnya peminat komik di Malaysia.
sempena interbiu ini...
Teaser terbaru Pendekar Melayu Terakhir